Sergey Lobodzinskiy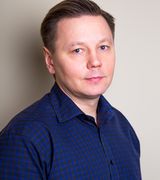 When Seattle-area real estate agent Serg Lobodzinskiy first got into the business, his broker at the time shared with him some wisdom he's never forgotten. "She said if I got into the business for the money, I would not be successful," Serg recalls. "But if I was doing it to help people, I would be a success." Those words have proven true, and helping people remains at the core of how Serg conducts his business.
In fact, the whole reason he pursued a real estate career was to help others in his community. A native of Moldova, he immigrated to the U.S. at the age of 19, and by his mid-20s, he recognized the need for a real estate agent who could communicate in his community's native language. Now 12 years into his career, he continues to work with the immigrant community, as well as a wide range of other clients, throughout King and Pierce Counties, and into Snohomish County, as well.
Committed to always treating his clients the way he wants to be treated, Serg recognizes that for most people, buying or selling real estate is more than just a transaction. "It's really a personal, family-focused business," he says. "I like the idea of helping people with such a major purchase of something that's very close to their hearts." And regardless of a property's price point, all clients receive the same level of personalized service.
With more than a decade in the business, Serg has had the chance to assist clients during a variety of market conditions. "I've seen a really strong seller's market and really strong buyer's market," he explains. "I've succeeded in both by providing knowledge and expertise and going the extra mile for my clients. That consistency has al-lowed me to continue selling five or more houses a month regardless of market conditions."
Much of that success can be attributed to the high percentage of repeat and referral business Serg enjoys. In addition to assisting families buy and sell homes, he is also a preferred agent for real estate investors. "I have clients who I've done five or six transactions with over the last 10 years," he says. "Some of my investors will buy three or four houses a year with me." As an investor himself, Serg also has a network of professionals he can refer his clients to. "I have a chain of people for any type of work that's required to remodel the house," he says. "It's part of how I give my clients more than just the paperwork that relates to the sale."
With his deep connections to the communities he serves, it's no surprise Serg is passionate about sharing his good fortune. For the past three years, he has sponsored the Christmas in Bellevue concert. "It's a great way to get connected with the public and give back to the community," Serg says. "During the event we give out vouchers and gifts to families who have adopted children. This year we'll be giving out scholarships for music classes."
As his business continues to grow, Serg is excited about the possibilities for the future. "Reaching out to new communities has opened me up to a larger group of customers," Serg says. "And I'm planning to expand even more into commercial sales." But no matter how much Serg's business changes, one thing will always remain the same. "Real estate is about helping people make their dreams become reality."