Zack Lazo
Designated Broker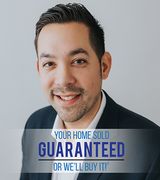 As an owner of one of Washington's premier investment real estate companies, Zack Lazo, credits nearly a decade of experience in the real estate field, his strategic vision, collaborative approach, and intuitive analysis, as the core ingredients to bolstering Caliber's success through his position as President of Caliber Real Estate. Zack prides himself on listening first, then taking action to produce optimal outcomes. This foundation has fueled his career and has rooted his dedication toward exceptional customer service, ensuring that his clients' needs are put above monetary gain and that even the unspoken concerns and expectations are met and exceeded. His Master's in Education affords him the framework to provide his clients and colleagues with meaningful analysis and the ability to convey those findings in a manner that is both effective and empowering.
As Designated Broker, Zack, offers leadership and strategic advice to a team brokers with a focus on cultivating expertise in the marketplace, while ensuring that regulatory and ethical guidelines are always followed. His efforts placed him in the top 0.1% for closed transaction in 2013. Through his hard work, dedication, and expertise, Zack was entrusted to manage the acquisition and selling efforts of one of the nation's largest real estate hedge funds, with purchasing power of over $30 million dollars in the state of Washington. He was also a key acquisitions member for the nation's largest real estate hedge fund, a buy and hold strategy that purchased over 2,000 properties. Having personally purchased and sold over 50 houses over the past 4 years, Zack also understands the client experience from the other side of the table.
This experience has strengthened his proficiency in effective marketing, value optimization, and provided Zack with a keen awareness of how to prevent pitfalls, engage the most appropriate safeguards, and ensure a successful real estate transaction.
Despite his successful career, Zack's position as husband and Dad, is his most cherished and meaningful undertaking. He enjoys traveling and spending time with his wife and best friend of over 9 years, Elina, and his two children, Ava and Benjamin. As a family, they show love through giving, and feel privileged to support multiple charitable foundations.